Hi Folks:
This just a heads-up from today's sail, hopefully is helpful to someone. I have a Horizon VHF/GPS unit, handheld, it's my comms device and panic button (has a DSC distress call button that I hope never to need), and I program in my waypoints when needed. All that and it floats, what's not the love?
Well, one day we all get to understand the difference between theory and practice... I carry my VHF clipped to my lifejacket and doubly-secured with a lanyard. For some reason that I can't figure out, the radio popped straight off my lifejacket today (when I was reaching out to clear a tangled jibsheet forward of the mast) and the lanyard somehow failed - KERPLOP! Straight into the drink. Not much I could do about it because I was then hit with a sudden gust, except for taking a quick look at the compass for my heading. As soon as things calmed down, I sailed the reciprocal, hoping to spot the antenna waving around out of the water. Nothing.... I was close to the dock anyway, and about to go in, so I headed upwind and dropped sail.
Then I saw the radio... barely. It was floating "on it's back", barely underwater, like so (from the company's own brochure! I just didn't realize the implications, it does NOT float upright and it does NOT float above the surface):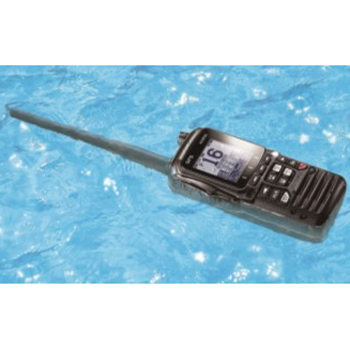 Since the radio is black, and (unlike this photo) the water is black/dark green, I could just barely see it, mostly by the ripples around it and the reflection off the screen, a silver spot in the water. I lost sight of it several times maneuvering to pick it up, and then ran it over. But I got it, $350 saved and my pride. Still works just fine, despite the swim.
Moral of the story - double-check your lanyards at the beginning of the season, and paint your emergency equipment ORANGE.